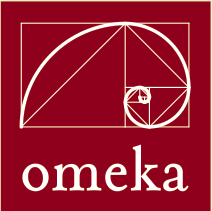 Since I've begun teaching, I've become mildly obsessed with buying anthologies of primary sources. Until I had to get up in front of a classroom, I didn't realize how difficult it was to select and make available primary sources to teach students with. A good anthology of sources has done more to advance the world's knowledge than many a monograph.
But print anthologies have their flaws. First, no anthology has all the sources you need; you've got to pick and choose from them all. Second, they are expensive—no small issue for students. Third, many of them are out of print. Of course, there are some great anthologies of primary sources on the web: for example, History Matters and Do History. And of course, more and more there are large archives of primary sources online, like American Memory. But it seems to me that a useful tool for teachers would be a way of building your own anthology of sources for teaching.
Enter Omeka.
If you're not familiar with it, "Omeka is a next generation web publishing platform for collections-based research of all kinds, one that bridges the scholarly, library, and museum worlds through a set of commonly recognized standards. In doing so, Omeka puts serious web publishing within reach of all scholars and cultural heritage professionals." The self-hosted version of Omeka is easy enough to use, if you have some basic skills at installing and running web apps. But even better, the recently announced Omeka.net offers a hosted service that will make the software even easier to use.
In this session, I'd like to talk about the possibilities of using Omeka to create an anthology of primary sources for teaching. Specifically, these are the topics we might discuss:
What would an Omeka anthology of sources look like? How would it be organized?
What might be the best practices in creating an Omeka anthology?
What are the copyright issues involved in creating an anthology? Does it make a difference if the anthology is publicly available, or available only to students in a given class?
Can teachers roll their own Omeka anthologies, especially with Omeka.net, or should educational technologists get involved?
What can Omeka offer that printed and bound anthologies cannot? I'm thinking here of capabilities like geo-tagging primary sources, as well as including media like audio, photos, and video that print cannot.
Most of all, let's get our hands dirty and actually start using Omeka! I'll have a self-hosted Omeka installation to use as a sandbox, and it's easy to sign up for an Omeka.net account. In the words of Dave Lester, we need "more hack, less yack."
If you're interested in this session and want to think about it in advance, you might take a look at some of the fine Omeka sites that are already on the web. Two that I think are particularly good models of sites that are useful for teaching are Making the History of 1989 and The Object of History. You can see other examples at the Omeka showcase and at this wiki list of Omeka sites.
One last thing: if we have time, we might also discuss how to use Omeka as a repository of sources for research. Looking towards my future dissertation, I've set up an Omeka installation to collect the conversion narratives that I plan to study. (My Omeka archive is almost completely empty now, but here is the shell.) Can we use Omeka to promote transparency in research? If being an active researcher makes for better teaching—one of the assumptions of our research universities—then can making our sources available in Omeka make us better teachers?